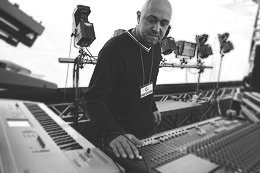 About Planet B.E.N.
Since 1983 the DJ and Producer Planet B.E.N. is influencing the electronic music scene and is playing all over the world. His projects Planet B.E.N., Organic Noise and several others are highly respected throughout the world.
The music business considers his productions to be extremely potent, of best quality, well produced and always innovative and reliable. His style is pumping,deep and absolutely full of trance and techno. He has produced with many well known bands and artists, had chart hits and appeared various times onRadioshows, TV (Viva, MTV) and had uncounted coverages in the print media (Wax Magazine, Spex, Max).
His sets at the side of almost all famous Acts and producers in the electronic music scene underline his worldwide status and international reputation. His skill and sense for what makes people move on the dancefloor made him become a most wanted international DJ act 1998-2008. In 2003 Dj Planet B.E.N. startet Planet B.E.N. Records and Planet B.E.N. Publishing later followed by Planet B.E.N. Techno.